24 Acrylic Pouring Tips and Tricks that Actually Work
Some of the best artists currently doing fluid acrylic art had years of experience.  Countless hours have gone into experimentation and mastery of their own techniques and methods.  As a novice in the field, or a journeyman looking for more to learn, sometimes it can feel daunting trying to incorporate everything these paint pouring gurus already know.
We've compiled a list of 24 acrylic pouring tips and tricks that actually work to help you jump-start your acrylic paint pouring mastery.  These tips include things like how to help create the perfect dirty pour cup or an ingenious way to get rid of clumps in your Floetrol and old paints.
We are sure you've heard of some of these tips, but we also believe a few will surprise you.  We hope you enjoy this list of fluid acrylic tips and tricks.  If you have tips to share with our community, let us know in the comments section at the bottom of this article.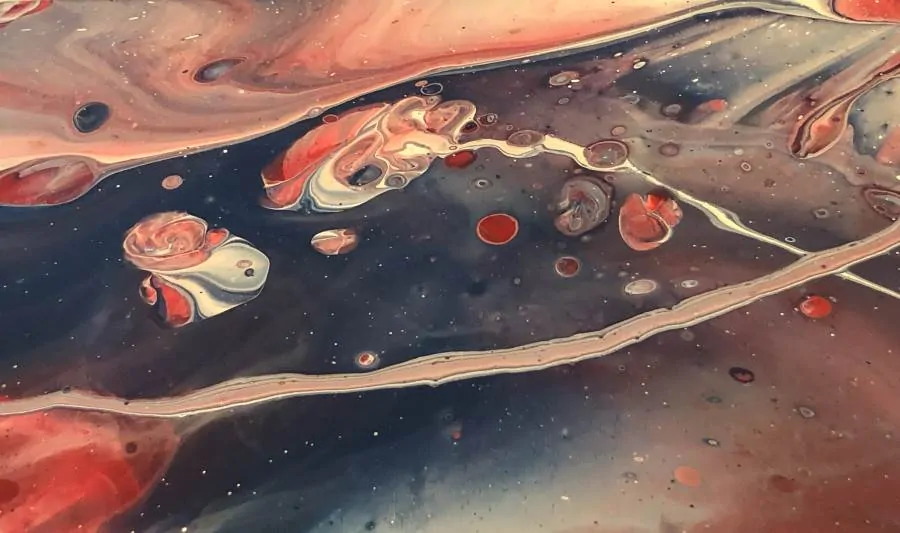 Acrylic Pour Paint Mixing Tips and Tricks
In this section, we consolidate all tips related to paint preparation.  This includes the initial mixing of paint and pouring medium and mixing prepared paints together for techniques like the flip cup or a dirty pour.
1. Use small incremental amounts of medium when mixing heavy body acrylics
When mixing heavy body acrylics for a fluid pour, start with only a few drops of medium.  Mix well and then add slightly more medium.  Continue until you get the paint consistency that you want.  This will keep the heavy thick acrylic paint from clumping or not fully mixing which is common when trying to mix all the paint and medium at once.
2. Use 90% water and 10% medium instead of straight water
Adding too much water to your fluid acrylic paint can reduce the acrylic resin's ability to bind together which leads to cracking and crazing.  Adding a little medium to your water for thinning gives a little extra protection from over thinning.  This helps in both the binder ratio, and the speed with which you change the consistency of paint when adding straight water. 
3. Use pantyhose or a tea strainer for Floetrol and old fluid acrylic paints
Floetrol and old paints tend to partially dry over time in their containers which creates clumps.  These clumps of dried material can cause unsightly blemishes on a painting if not removed. 
The first easy way to filter your old fluid acrylic paints is to use a tightly stretched pair of old pantyhose (new works too, it's just more expensive that way!).  Stretch the pantyhose over the lid of the container and make sure it covers the threads on the side of the lid. Then tightly wind rubber bands on the thread to hold the pantyhose in place.  Now pour through the pantyhose.  This will need to be changed anytime the liquid stops flowing through the makeshift filter.
A second way to filter your paint is to use a tea filter.  These miniature colanders/strainers have very small holes and thus will filter out almost all the dried paint or Floetrol that might end up in your containers.  When washing this filter, make sure to use a scrub brush as rinsing only won't remove the small particles of dried paint that get stuck.
4. Use the proper sized cups for flip cup pours
When doing a flip cup, it is important that your paint fills the entire cup.  If the paint does not completely fill the entire cup, when the flip is done, the paint will move to the empty space in the cup, which is now at the bottom instead of the top.  The more empty space there is in the cup, the more the paints are going mix as they settle to the bottom of the cup. 
If cells are desired, the different densities of the paint will cause some cellular formation as the denser paint falls to the bottom of the cup through the less dense paint.  When air pockets are available, this denser paint (like titanium white) will just flow around the other paint instead of through the paint, thus limiting the number and quality of cells that might be formed once allowed to spread across the canvas.
Get more information about acrylic pour cells in our Everything You Need To Know About Cells article.
5. Tilt container slightly when mixing a dirty pour cup
Put a spoon, a brush, or a few stir sticks under one side of your dirty pour cup before adding paint.  This will cause the paint cup to tilt and allow for the paint to "layer" itself diagonally instead of just horizontally.
This slight change in the orientation of paint in the dirty pour cup can give entirely different results then other traditional methods.   You can also try pouring the paint along the lower side of the cup to better maintain the diagonal effect.
6. Pour paint onto stick or spoon instead of directly into the cup
In many cases when creating a dirty pour, you want to stack the paint in layers in the cup.  This can be difficult, especially with large quantities of paint or with deep cups. 
To keep the paint from sinking quickly into the cup, try pouring onto a spoon or stirring stick that is held just above the current paint in the cup.  This allows the paint you are pouring into the cup to slow down considerably before getting to the previous layer of paint and thus limiting it from dropping below the previous paint color.
Pouring the paint little by little will also help keep it from sinking through the other sections of paint.
7. Use a scale
If you are anything like us, you've had a difficult time trying to recreate the same effects after creating an amazing painting.  Part of this is the inherent variability of fluid acrylic painting.  However, a good part of the problem was the fact that my paints were slightly different every time we used them.
When mixing paints, if you use a scale and measure your paint, medium, and water you will achieve much more consistent results with your paintings.
A good digital kitchen scale is generally less than $20 and is an invaluable tool in your pour acrylic painting arsenal. 
8. Try reusable stirring spoons/sticks
Acrylic pouring creates a lot of potential waste.  One way we've been able to cut down on the waste created is by mixing our paints with reusable stirring utensils.
Coffee and espresso stirring spoons are long and thin and work quite well to mixing fluid acrylic paint.  We recommend getting a set of both 4" spoons and 9" spoons.  In addition, swizzle sticks used for cocktail beverages also work well in place of craft sticks.
An added benefit of using the same utensil to stir your acrylics is that your paint consistency check will always be the same rather than varying based on the stirring tool of the day.
Acrylic Paint Pouring Tips and Tricks
Once your paint is mixed and ready for pouring, we have a few tricks to help you make the best or your fluid pour.
9. Add a base coat of paint to help your pour flow better
You've probably seen lots of painters do this already, but we definitely recommend adding a base layer of paint to most of your paintings.
The reason is quite simple.  The texture of your canvas or painting surface will cause the outside layer of paint to stick and the following paint will roll over the top of it.  If you don't have a base layer, the beautiful paint on the outside edge gets pulled under and lost.
Having a base coast of paint allows all the paint to skirt over the base coat rather than get sucked up under like it would on a dry canvas or surface area.
10. Use excess paint on the corners
Fluid acrylic paint, like water, wants to be a circular concentric form when poured on a flat surface.   This physical property of liquids makes pouring and tilting liquid paint on a square canvas a little awkward.
The corners of a square or rectangular painting surface are usually the last things to get paint.  The corners are also the place where the most paint falls off the canvas.
By using the last dregs of paint in your paint pour cup on the corners, you limit the amount of paint to have to force to each edge, and thus limit the amount of paint you'll lose off the two edges of the surface.
11. Use a corner paint catcher
Another method to help limit the amount of paint falling off your canvas in the corner is a corner paint catcher.   When held to a corner while you are tilting paint to that same corner you keep the paint from flowing off but allow the whole corner to get coated.   Some paint will fall off when removed but not nearly as much as would be lost without it.
In the past we have used strips of cereal box, cardboard, and junk mail postcards and all have worked well.  You need a strip about 3" by 8" that is folded in half.  Anything longer gets to be too bulky to hold in one hand while tilting the canvas with the other.
12. Prevent drips from flip cups
When you pull a flip cup off the canvas, pull the flip cup off in a direction away from the main section of paint.  This will limit the drips that might fall out onto your already poured paint as you pull the paint cup off the painting surface. 
You can also put your hand under the cup as soon as you remove it from the painting surface to capture the drips.
In most cases we have found these random drips to be distracting on our acrylic pours.  This is really a painter's preference.
13. Use a comb, hair pick, or a kitchen baster to spread out your paint
A painting knife is not the only thing you can use to move the paint around on your canvas.  Try using a comb, a hair pick, or a kitchen baster (the kind with feelers and not suction). 
All three of these tend to give us a more uniform layer of paint when spreading on our painting surface as compared to a painter's knife.
14. Use a bendy straw to blow your paint around
If you don't have a Lazy Suzan or some other easy way to spin your painting, blowing paint from multiple directions requires that you either move around the table or that you put the straw down to rotate the canvas manually.   Both or frustrating and time consuming.
Try using a bendy kids straw to blow your paint around.  Blow from the long end and use the short end after the bend to change the direction of the airflow.
There are also quite a few good quality metal straws with a bend that can be used in place of a disposable straws for those of you looking to be conservation minded.
15. Keep tweezers handy
Stuff happens while you are pouring.  Your paint might not get mixed quite well enough, you might get small flecks of dried paint or medium in your cup, or you might have a moth fly into your wet painting.
Therefore, it always pays to have a set of tweezers handy so that you can pull these undesirables out of your painting when you see them.
16. Patience: Master the art of waiting
When it comes to acrylic pouring, speed is not the key.  There is no need to rush through your pour painting.  There are four major areas where having patience and doing things slow and methodically will pay dividends with your finishes painting.
Take your time mixing your paint.  Mixing too fast may introduce bubbles or it may leave thicker paints at the bottom of the cup unmixed. 
When pouring your dirty pour cup, plan on which colors you are going pour and in what order.  Consider each color's opacity, transparency, and pigment composition to help enhance any desired color combinations and effects.
After your flip or your first pour, take a moment to let the paint settle.  Let gravity do it's work and allow your colors to move on their own before tilting or manipulating your canvas.  Once you have waited a few minutes, try torching or blowing the paint to facilitate changes to the surface tension (see the article here about torching and surface tension).
Take your time when tilting and manipulating your canvas.  The faster you move the paint the more change you are going to create.  If you like how the paint looks after the above steps, tilt the canvas very slowly.  This will help conserve the initial look of your pour.
17. Let it go
Paintings change as they dry.  Excessive work on your acrylic pour painting to try and get the exact look that you want is most likely going to leave you disappointed when the painting dries.  Some of the allure of fluid acrylic art is its unpredictability.
As times goes on, you'll get better at predicting how a painting is going to look as it dries, especially when you do a specific pouring technique over and over.  Check our lists of basic and advanced acrylic pouring techniques.
18. Lighting matters
Paint looks different when you change the lighting.  Direct sunlight, indirect sunlight, incandescent bulbs, daylight bulbs, and soft white bulbs, all produce much different lighting.  A painting viewed through each one of these light sources will change.
If you know where the painting is going to be displayed, try adjusting your workshop painting for the same light.  If you don't know where it will ultimately be displayed, we recommend having at least both daylight and soft white light sources in your studio.
19. Don't be afraid to add more paint or start over
One of the things we like best about acrylic pouring is that it is so easy to make changes to any pours you don't like.  When you finish a painting and you just don't love it try one of the following:
Add more paint.  It makes the painting cost a little extra but there is no point in keeping a painting you don't love.   Either pour new paint right on top or scrape off all the excess paint and try again.  If you do scrape off the paint this might be a perfect opportunity to try a dip pour from our advanced acrylic pour techniques post.
Let your painting dry and try again.  There is nothing wrong with having a few different layers of paint on your painting surface.  Just be sure you let the paint cure.  You can see the difference between curing and drying here.
Try a swipe, balloon drop, or hammer technique on your painting.  You can also try using your painter's knife to add some interest by moving small sections of paint around manually.
If all else fail, EXPERIMENT.  Hey, it's ruined for you anyways.  Try something new and crazy.
Learn more about different ways to save a bad pour in our article Can You Pour Over and Acrylic Pour.
20. Remove excess dripping paint to keep more paint from running off
After you are done manipulating your painting, take your painters knife or stirring utensil and remove the dripping paint from the bottom of the painting.  This dripping paint will continue to pull more paint off the side of the canvas which, in turn, pulls more paint off the top of the canvas. 
You may need to do this a few times as the paint settles.  You'll see far less stretching of paint on the sides of your painting if you do this correctly.
Removing this dripping paint will also let you see if the paint is running off one side more than another.  This is an indicator that your painting is not level.   Leaving a painting to dry that is not level will result in the dreaded "morning after" effect where the dried painting looks like a melted wax figure when half the paint runs off on one side.
Acrylic Pour Painting Odds & Ends Tips and Tricks
Now for all the other acrylic pour tips and tricks that really didn't fit in the other categories.
21. Keep a paint pouring journal
Keep a journal of all the pertinent details of your paint preparation and the observations you made while doing your painting.  Before and after pictures can be quite helpful here, also. 
Here is short list of some of the things any fluid acrylic pour artist's journal should have:
Date
Colors used
Color mixture for each paint used along with any additives.  Actual weights or amounts are helpful here too.
Technique used
Order the paints were poured on the canvas or into the dirty pour cup
Was torched used?  If so when and for how long?
Any observation made during the pour
Pictures of the initial paint on the canvas as well as the final result.
We wish we had started keeping a painting journal the very first time we started painting.
22. Store paintings upright with bakers paper in-between each painting
When your paintings are fully dried and cured, you can store them upright with a piece of baking paper between each painting.
By stacking them vertically instead of horizontally you don't have any paintings with too much weight on them.  The wax-like paper cooking paper will keep the paintings from sticking to one another. 
Stacking paintings vertically on a shelf is likely to save you quite a bit of room when you have a lot of paintings to store.
23. Mark the date you buy paint
Whenever you buy paint, write the day you purchase it along with the store you bought it from on the paint container.  This way you can keep track of any bad batches of paint you might get or allow you to recognize when older paint might need some additional work before mixing with a medium.
In addition, knowing when you purchase a certain batch of paint will give you a good idea of how quickly you used the paint so you can gauge how much paint to purchase the next time.
24. Keep a few different size paint cups on hand
We recommend you keep at least three different sizes of cups around at all times.  A small cup (4 oz or less), a medium cup (8 – 12 oz), and a large cup (16 – 20 oz).  Every technique requires different amounts of paint and having some of each on hand will spare you aggravation over time.
For the medium and larger cups, we like for them to be slightly bendable so that we can create a pseudo spout on one side of the lid by bending the cup slightly.  For smaller cups this not usually a concern.
We do not recommend using paper cups.  They tend to soak up some of the moisture in the paint as they sit, and they don't keep their form very well after a few minutes.  This is bad for keeping a consistent paint texture and for holding the cups for pouring.
Conclusion
We hope you found a few nuggets of usable information from this post.  If you have additional suggestions for our acrylic pour tips and tricks page, please let us know in the comments below.