Why is My Acrylic Pour Cracking?
For an artist, there is almost nothing worse than creating a beautiful painting, setting it aside to dry, and coming back to find cracks in your masterpiece.  Unfortunately, almost every artist that uses acrylics, including myself, will experience cracking in their art at one time or another.
So why is your acrylic pour cracking?  Cracking occurs in acrylic paint pours when the top layer of paint dries faster than the underlying layer.  As the bottom layer dries,  it pulls at the semi-hardened skin on top and when the force is too much, a crack is created.  Newly formed cracks will continue to widen until the paint is fully dried.
While cracking is sometimes unavoidable, there are a few things you can do to limit the possibility of cracking.  In addition, if a painting does crack, you can potentially salvage the painting by using some of the recommendations below.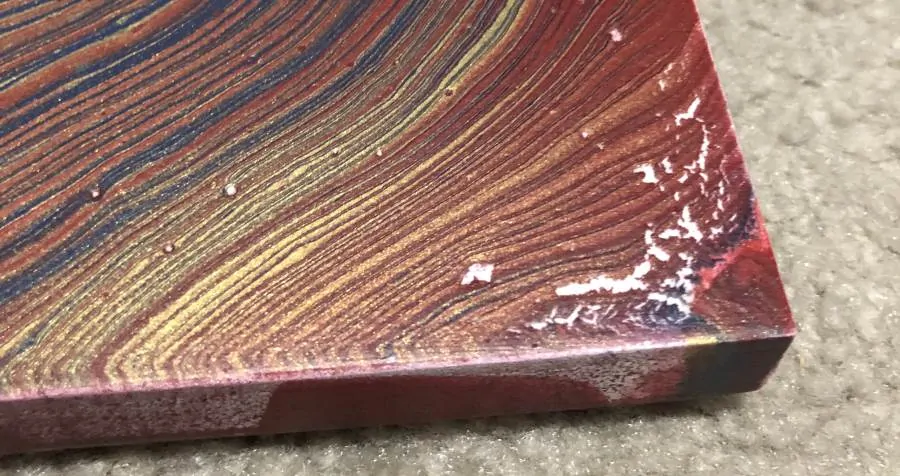 In Depth Look at the Causes of Cracking
If you are reading this blog you have, most likely, already had a painting crack.  I can definitely feel your pain.  Don't be too discouraged though.  As I mentioned before it is bound to happen to all artists.  Once you understand why cracking happens, you'll be better prepared to reduce the change they happen again in the future.
Paint Consistency
The consistency of your paint has a tremendous affect on potential cracking when the pour paints dry. 
Paint is Too Thin
Very thin paint mixtures, especially those diluted with excess amounts of water or alcohol, are prone to cracking because there is not enough binder in the paint, and/or paint medium, to hold everything together once dried
Alcohol and water do not contain any binders.  Because acrylic paint is water soluble, these additives also tend to break down the binders in the paint.  Small amounts will not have enough of an effect on paint and are valuable to control consistency.  Too much of either will increase the potential of cracking.
With thin paint, the top coat tends to dry very quickly.  The plastic/polymer binders, which hold dried paint together, accumulate on top and form the skin during the first part of the drying process.  
With thin paints, there is less binder to hold the paint together when dry.  Having less binder reduces the stress that the semi-dried, but uncured, top skin can handle.  The stress of the bottom coat volatiles evaporating can cause the top to "buckle" and break, which is why you see cracks.  The paint below will then dry and contract sideways, expanding the crack. 
Paint is Too Thick
Using acrylic pour paint that is too thick can have a similar effect that thin paint has.  Paint that is drying is loosing it's water and solvents due to evaporation.  Water and solvents are what makes acrylic paint "thick" looking compare to when it is dry.  
With very thick paint, as with thin paint, the top layer of pain dries the fastest and forms a skin.  The paint underneath takes longer to dry.  When the paint is too think, there is more contraction happening as the water and solvents evaporate and move out of the paint.  This causes stress.
Acrylics were made to handle some stress, which is why they are considered more durable and flexible than other types of paints.  However, when a very thick coat of paint dries and the volume of paint begins to shrink due to evaporation, that stress level can exceed what the dried top coat can handle and cause cracks to form.
Paint of any consistency, applied in a very thick layer, will also increase the likelihood of cracks forming during the drying process.  Coats of too-thick paint are more common in the center of a stretched canvas painting surface where the canvas sags  in the center due the the weight of the paint.
Low Quality White paint
Many low quality white paints are made with a chalky materials that are notorious for cracking. I recommend never using craft paint in any shade of white (off white, tan, eggshell, etc.). Paints from Craftsmart, Apple Barrel, DecoArt, etc. are all considered craft paints.
Environmental Variables
How fast the paint dries can have a significant impact on cracks forming.  As was mentioned previously, the top layer of paint drying too rapidly in relation to the drying speed of the bottom layer is a surefire way to increase the potential of cracks.
When a painting dries in a location that is too hot, the layers will tend to dry and different rates.  Similarly, if there is not enough humidity in the air, the drying process for the top and bottom layers will happen at much different rates.  
Because acrylic paints are made of water and water based solvents, freezing temperatures will most likely cause cracking and other undesirable affects.
The amount of air that circulates when your painting is drying can also increase the drying time of the top layer, while having less influence on the bottom layer's drying time.  Again, this difference in drying times between layers of paint increases the chance of cracking.
You can read more about the drying process of acrylic pour paintings here.
Prevent Cracking In Your Painting
Now that you understand what can cause cracking in your acrylic pours, how can we prevent it from happening?  Try some of the steps below:
Ensure your paint mixture has enough binder.  Try thinning your paint with a medium with binders like Floetrol, PVA glue, or professional mediums, in addition to water.
Make sure your paint is not to thick and not too thin.
Add a retarder to slow the drying process.
Adjust environmental variables detailed here under the Slowing Down Dry Times heading here.
Use higher quality acrylic paints.
Pour off more paint to keep from having too thick of a coat on your painting surface.
Try layering multiple thin coats instead of doing one big thick coat if possible.
Fix Cracking In Your Painting
Now that you have a cracks in a painting you want to try and salvage, what are your options?
Fill with Paint
The easiest and most practical option to fix that cracking in your pour painting is to fill the cracks in with paint. 
If you've saved paint from the original pour that is idea as it will match your pour perfectly.  Use a small paintbrush, a spoon, a child's plastic medication syringe, or a zip log back with a small corner cut out to insert paint directly into the crack.  Be sure to add slightly more than the crack will take as it will shrink as it dries.
Another option, which I highly recommend trying at least once, is using a single color of paint.  This can be one from the original painting or a new color, like a metallic or pearlescent.  This can add some additional character to your painting and really make it pop out to the painting's audience.
Leave it Be
Another viable option with a pour painting with cracks it is leave it be.  Many famous paintings have cracks.  Time, the elements, or simply moving the piece can create cracks.  Many people that appreciate art, also appreciate the imperfection of the work.
Sometimes as an artist we want everything to be uniform and perfect.  That isn't always the best route to take.  Get the opinion of those around you.  This will help you disconnect yourself from what you "think" the painting should be and let you think more objectively about the beauty of what you actually have.
Scrap and Re-Pour
Another option you have is to just give up on the piece altogether.  There is nothing wrong with this option.  This is art people.  There is no right or wrong answer.
One of the best parts about acrylic pour painting is that once a painting is dried and cured, you have the option to pour over the top of the piece to create something new.  That way you get to enjoy the painting process TWICE for the same painting!  
Related Questions
Why is craze cracking?  When paint crazes, micro-cracks form and then are "healed", or filled in, as the volatiles in paint mixture escape through these micro-cracks.  Similar to a scar on skin, these crazes look slightly different than skin around them and will reflect light making them more noticeable.
What causes paint to craze?  Crazing can be caused imperfections in the acrylic paint or paint medium, environmental variables, paint consistency, painting surface preparation, and many other factors.  Crazes form during the drying process.  Read more about the acrylic pour drying processes here.