Can You Use Craft Paint for Acrylic Pouring?
Craft paints are by far the cheapest and easiest acrylic paints to get a hold of.  Every craft store has a few different brands of craft paints and large retailers like Walmart and Target also carry them.  These paints get used for many different hobbies and projects.
Can you use craft paints for acrylic pouring?  Craft paints can absolutely be used for acrylic paint pouring.  However, craft paints do not have as much pigment or as high-quality binder as artists' acrylic paints, so don't mix them with as much pouring medium.  The recommendation is to mix one-part pouring medium to one-part craft paints (1:1).
In this blog post we'll review in more detail how craft paints are made, the most common craft paint brands, and some best practices when using them for fluid acrylic pouring.
What are Craft Paints?
All acrylic paints are made of three main materials: pigment, acrylic polymer, and water.   The pigment and acrylic polymer get mixed in with the water and create an emulsion (one substance suspended in a liquid).
The water in the paint is used to help change the consistency of the paints.  Heavy body acrylics have less water than soft body acrylics.  Craft paints generally have more water than other forms of acrylic paints.  This greater portion of water in craft paints tends to give them a runnier consistency.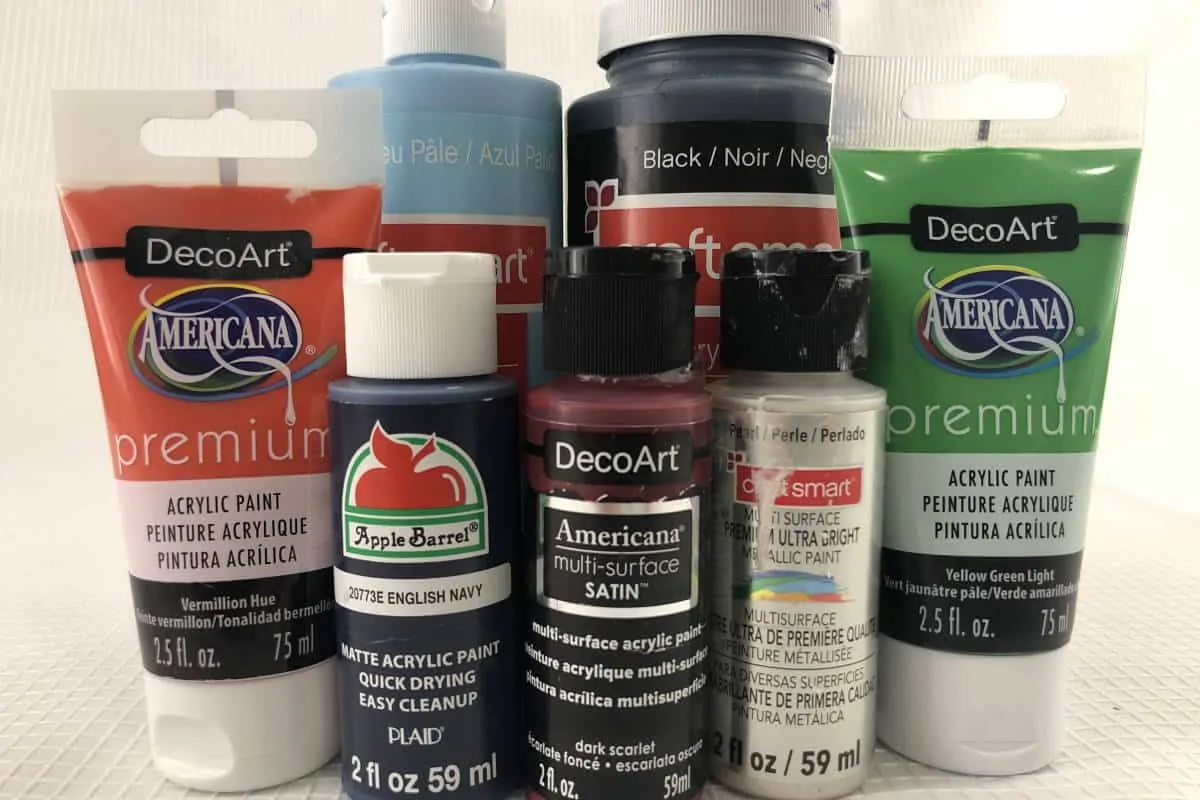 Pigment Load
The ingredients used in craft paints are usually chosen based on their cost more than their quality.  This means that there is less color pigment, or load, than regular acrylic paint. 
Many of the pigments used are synthetic and do not create pure colors like some more expensive pigments would.  Many of the colors with "hue" in the name (eg. cadmium red hue) use synthetic pigments.
With less pigment, you can't "cut" or add as much medium/water because diluting the paint will the vibrancy of the color.
In many cases, craft paints don't use normal color names, like cadmium red, because in many cases craft paints are a combination of different pigments and they don't want to misrepresent the colors they offer.
Binder Quality
The binder used in craft paints is also not of the same quality as they are in regular acrylics.  If you are going to extent craft paints, use a pouring medium that has its own binder like floetrol, glue-all, or any professional pouring medium.
Using too much water with craft paints will cause them to flake and peel when they dry because there is not enough binding power between the plastic polymer molecules after the water evaporates.
Cost
Craft paints are frequently sold in 2-ounce containers and are usually priced in the $50 – $1.00 per ounce range.   The cost per ounce generally goes down with the size of the container that you purchase.
Some craft paints meant to be used in educational settings like Mont Marte, Sax, and Sargent are also sold in much higher volumes. 
Using Craft Paints in Acrylic Pouring
As mentioned in the introduction, craft paints can definitely be used for acrylic pouring and are a great way to learn without breaking the bank.
When using craft paints for acrylic pouring, do not mix more than one-part pouring medium to one-part paint.  This will ensure that when the paint dries it will be less likely to crack, craze, or peel from the painting surface.
It is recommended that a protective coating that includes UV blockers be applied to any pour painting with craft paints to help keep maintain color vibrancy for as long as possible.   UV will degrade lower quality pigments, similar to the affect sunlight has on bumper sticker colors over time.
Review our blog post below about acrylic pour dry times to make sure enough time is allotted to drying and curing a painting before finishing with a protective coat.
Beginner Pouring Medium Recipe
If you are just starting out with acrylic paint pouring, try using white Elmer's Glue all as your first pouring medium. 
Mix 70% glue to 30% water.  Then take one-part of this glue mixture to one-part of your favorite craft paint.   For more information visit our blog post about pouring with PVA glue or watch our video below.
Common Craft Paint Brands
There are quite a few brands that make craft acrylic paints.  We will be highlighting a few that are commonly used in the paint pouring community.
Apple Barrel
Apple Barrel paints, made by PLAID, are one of the most common craft paints in the United States.  They come in matte, satin, and gloss finishes and have a ton of different colors.  These paints can be found at Amazon and Walmart.
Blick
Blickrylic student acrylic paints are the craft/educational line of paints from Blick.  These paints come in over 30 different colors including metallic and fluorescent colors.   You can buy them in sizes from a pint (16 oz.) to a half-gallon (64 oz.) from any Blick Art retail store or on the Blick website.
Craft Smart
Craft Smart is another popular craft acrylic paint brand.  Their paint selections include matte, satin, and gloss finishes with a huge selection of colors.  Glow-in-the-dark, metallic, and fluorescent colors can also be found.  Purchase Craft Smart craft acrylic paints at Amazon or Michael's.
Darice
Darice is a wholesaler for arts and craft supplies based in Ohio, USA.  Paint pourers don't generally need wholesale amounts of craft paints but you can purchase these paints on Amazon for a reasonable price.
DecoArt
DecoArt is a staple in the arts and crafts arena.  They have craft paints (Americana), enamels, pouring mediums, and so much more.  The DecoArt Extreme Sheen and Satin Enamels are frequently used by experienced pourers to create some of the beautiful artworks you see on Instagram, YouTube, and Pinterest.
DecoArt can be purchased from Walmart, Amazon, Blick and many other crafting retailers.
FolkArt
FolkArt is another brand under the PLAID umbrella.  These paints come in a variety of different colors and finishes including satin, matte, and gloss.  We highly recommend the Glitterific and the Metallic paints from FolkArt. 
Purchase FolkArt from Amazon, Walmart, and Michael's stores. 
Martha Stewart
Who hasn't heard of Martha Stewart?  And of course, she has her own brand of craft acrylic paint.  This paint is a little on the expensive side, but it does come in some colors that you don't see from other brands.   
Mont Marte
We were recently introduced to Mont Marte paint by Julie on the Pouring Your Heart Out YouTube channel.  She creates amazing nature-inspired pictures with beautiful cells.  These paints come in larger containers.
Purchase Mont Marte craft acrylic paints on Amazon. 
Sargent
Sargent acrylic great beginner paints that come in larger containers at really great prices.  These are geared toward the educational space but are perfect for learning acrylic paint pouring.  One of the starter packs will have you painting for months.
Find Sargent craft acrylic paints at Walmart and Amazon.
Conclusion
Craft acrylic paints are a great introduction to acrylic paint pouring with an exorbitant cost.  They are easy to find, relatively inexpensive, and have there is a huge selection of colors.
Once a certain comfort level is reached with craft paints, we recommend you expand into artist level paints for even more depth of color.  For a list of our recommended paints to use for fluid pouring see our page for Best Acrylic Paints for Pouring.